About The QRMW and our founder
A little about us
The Quick Response Memorial Woodland (QRMW) is a small, Surrey-based charity run by a dedicated team of volunteers with the aim of assisting ex-servicemen who are in need of immediate assistance – they may be homeless, destitute; and unable to pay a bill that will keep him in his home, feed his family or assist with other essential expenses at a time when they are desperate. Thereafter, QRMW helps them get in touch with larger charities such as SAFFA to obtain long-term help they require.
Founded by 'Paul 'The Hat' Cooling
The Charity also provides a unique facility of having the Memorial Woodland as a place of reflection and remembrance for the families/friends of former service personnel. Located at Holmbury St Mary near Dorking in Surrey, it was purchased by the Founder and Chair, Paul 'the Hat' Cooling, from his own funds but created by many ex-servicemen who volunteered their time to make the woodland a place of reflection that it is today. It is their way of showing support for our troops, sharing the sense of loss, helping those suffering from the trauma to gain solace from the tranquillity of the place.
The Woodland was named The Queen's Regiment Memorial Woodland in honour of Paul's own Regiment, but the Registered Charity is named The Quick Response Memorial Woodland, because it is a Charity that assists ALL services and quickly.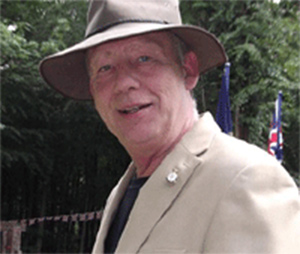 Mr Paul 'The Hat' Cooling
Founder of the QRMW
Pauls Story
I was a serving soldier in the 1st Battalion the Queen's Regt (Surrey) for nine years – Lance Corporal. My duties included working in Headquarters Intelligence. I also boxed for the Battalion for seven years and was Army Champion. I did three 'tours' of Northern Ireland whilst based in Bulford, Wiltshire and, later at Werl, in Germany.
In later years I found myself saddened and moved to see our troops, my former colleagues, being lost in action; particularly the televised bulletins showing the returning coffins of the lost soldiers. It affected me to an extent that I stopped watching television. But simply blotting out the matter was not enough;something within me told me I needed to do more. I started looking for land with a vague notion to provide a place to honour the fallen.
It was two and a half years later I found a plot of woodland near Dorking in Surrey which was up for auction. When I visited the site at Holmbury St Mary the wood was littered with rubbish, very neglected with high brambles everywhere. But, standing there in the total silence apart from the occasional bird singing and church bells ringing in the distance, I knew this was meant to be; I knew my vision would now be fulfilled.
As soon as I had possession of the land I contacted some Army 'buddies' and explained my vision. They have been incredibly helpful. I have since applied to form a Charity and, with generous help from the local residents who have donated picnic benches, flowers, trees and shrubs, not to forget their spare time "The Memorial Woodland" is available for all to visit.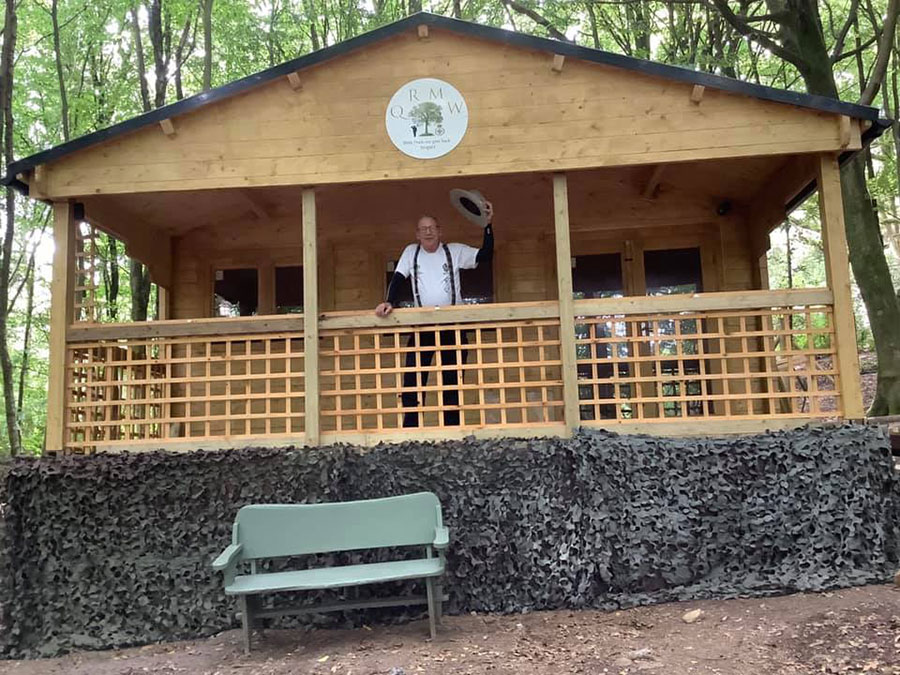 It is a Garden of Reflection, a place where those who have lost loved ones or those suffering from the effects of conflict, can wander or sit and remember, in a natural environment. With the help from ex-soldiers (Queensmen) the support has grown and so has the "word". Although 'our' Regiment has been disbanded, this is our way of showing support for our troops and help share the sense of loss, help those suffering from the trauma and gain solace from the tranquility of the place. Although I have purchased the woodland, it is for ALL of the service community, their families, friends and the local community.
We look forward to welcoming you soon.
Paul Cooling
Chairman
ARE YOU A VETERAN AND NEED HELP? CONTACT US NOW ON 0744 409 4700