QMRW events and dates for your diary
Keep an eye on this page to keep informed of news about what's happening both at the woodland and other events that you may like to get involved in too.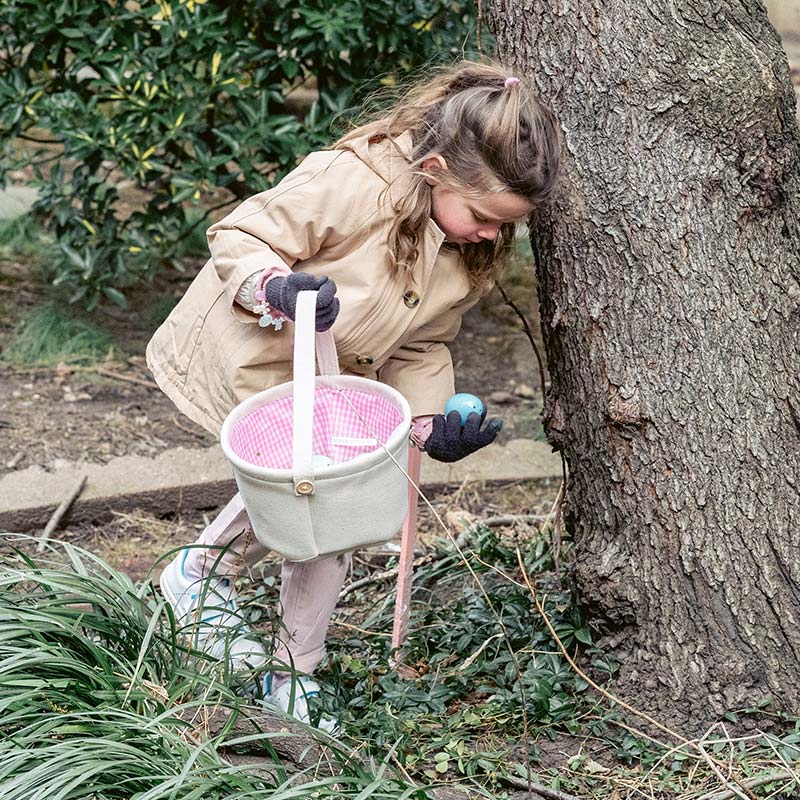 CHARITY EASTER EGG HUNT AND FUN DAY
Sunday 10th April 2022

12.30pm
Fun for all the Family at the Woodland
Easter Egg Hunt - Egg and Spoon Races for all ages - Easter Egg Stall - Easter Soft Toy Tombola -Bottle Tombola stall -Raffle -Cakes stall -BBQ and Drinks for sale
Children £6 each - Please Register Children ASAP to avoid disappointment as numbers are limited
Email: debbiehornblow@yahoo.co.uk or Tel: 07778873806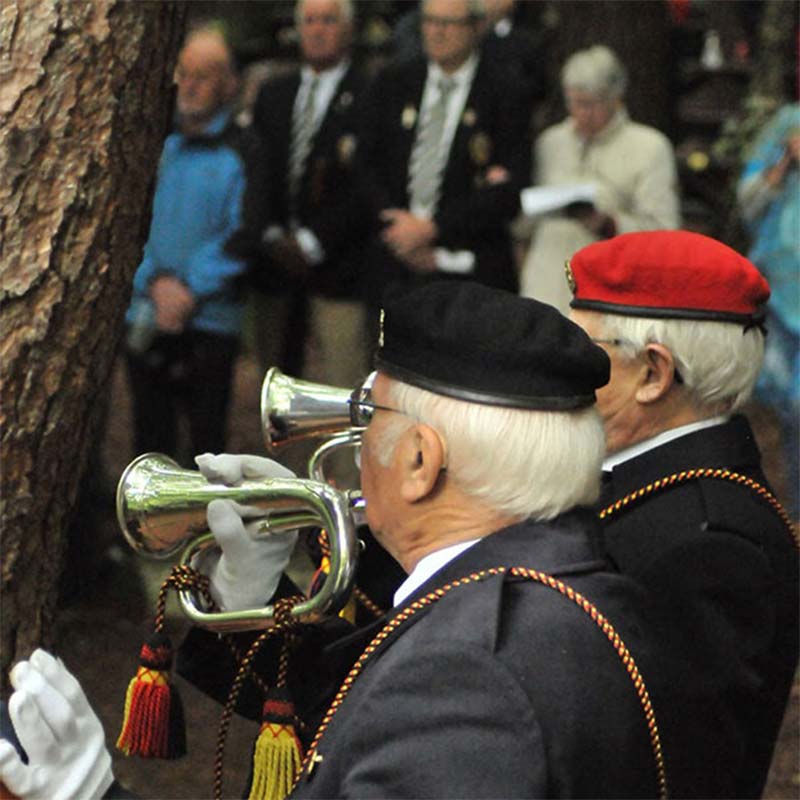 ANNUAL REUNION AND COMMEMORATION SERVICE
Saturday 11th June 2022
Commencing 12:30 pm with the arrival of the Chelsea Pensioners
Guest of Honour - Chelsea Pensioner David Hinds.
COMMEMORATION SERVICE IN HONOUR OF EX-QUEENSMEN Commemoration of ex-Queensmen: Graham McDonough, Peter Hopkins
& Bill Dixon
REDHILL CORP OF DRUMS & BAND, FRIMLEY & CAMBERLEY CADET CORP OF DRUMS, LONDON
GOSPEL CHOIR, DISPLAY OF VINTAGE AND MILITARY VEHICLES, BAR, BBQ, RAFFLE, BOTTLE TOMBOLA, CAKES, CRAFTS ,MERCHANDISE and lots more
All proceeds go to The Memorial Fund – Email: debbiehornblow@yahoo.co.uk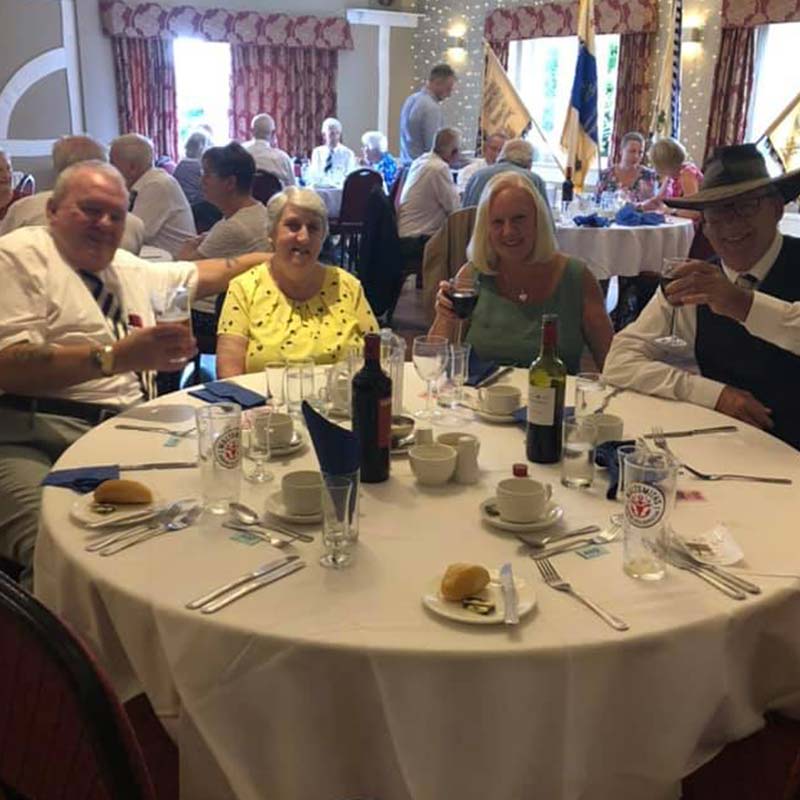 Dinner/Cabaret Fund raising event
at Brooklands College, Weybridge
Friday 15th July 2022
All welcome.
Tickets £30 per person including 3 course dinner and Cabaret/Band. Smart dress.
Email: debbiehornblow@yahoo.co.uk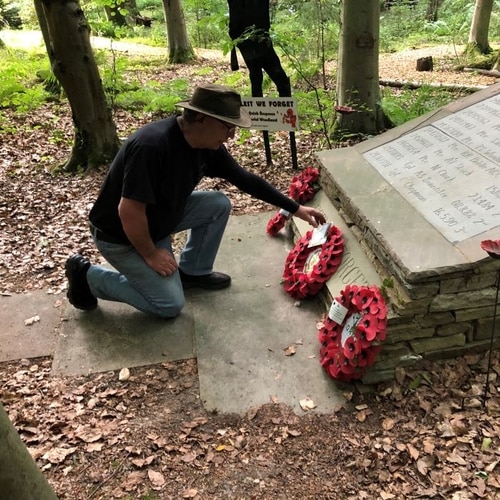 Remembrance Service at the Woodland
Friday 11th November 2022
All welcome.
Meet at the woodland 10.40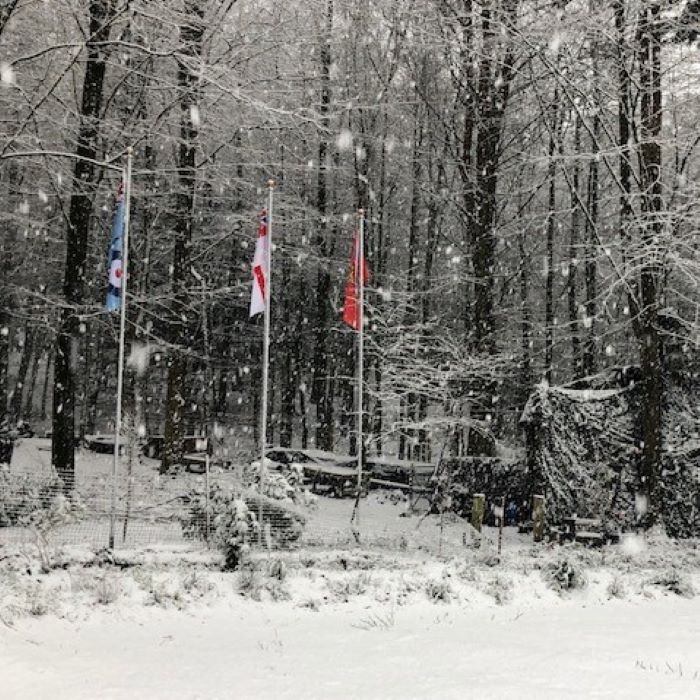 Christmas at the woodland
Sunday 4th December 2022
£7 per child for Treasure Hunt and present from Father Christmas
Christmas Raffle and various stalls, BBQ and hot drinks
Email: debbiehornblow@yahoo.co.uk
Below are some flyers for just a few of our previous events..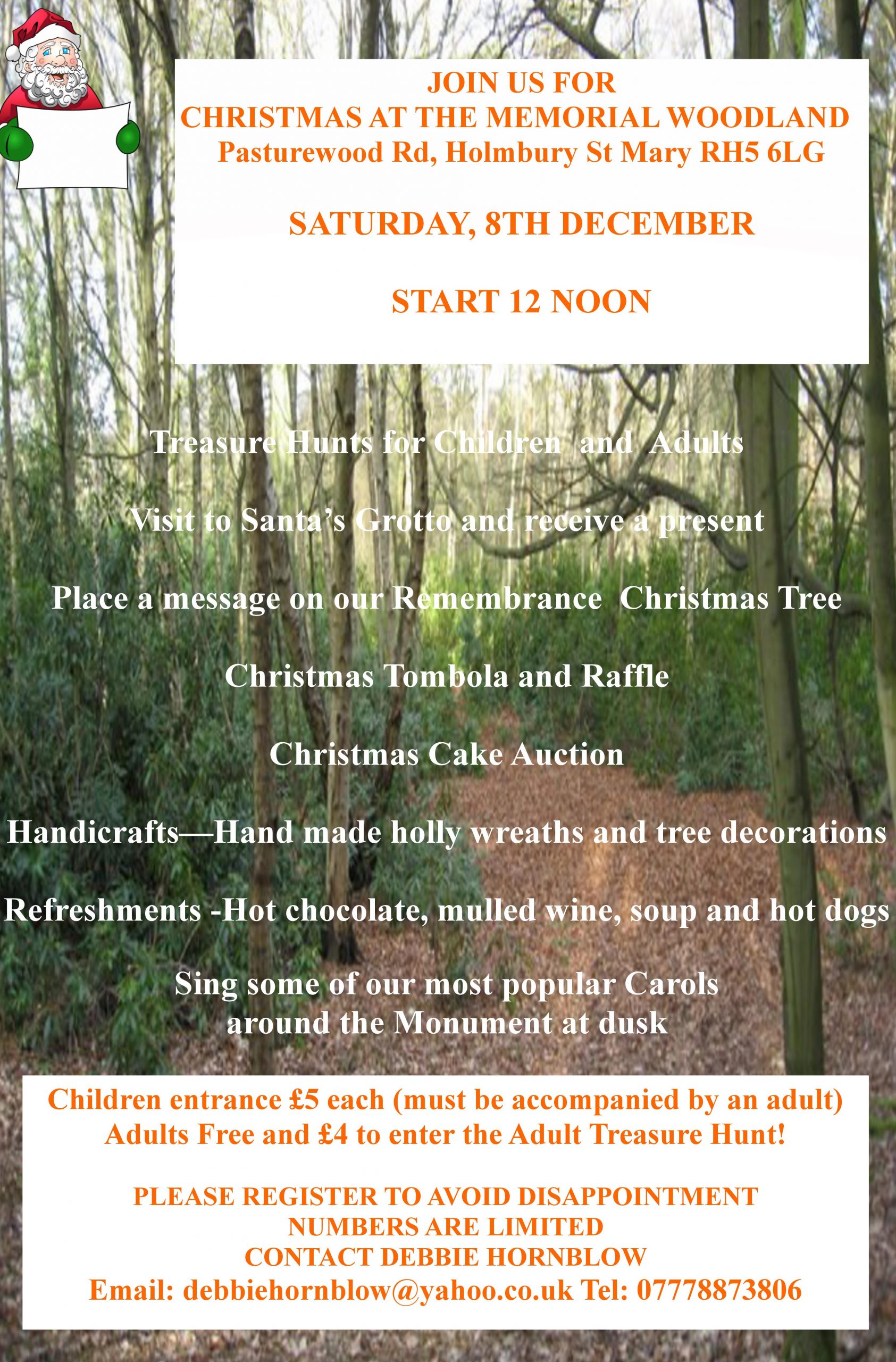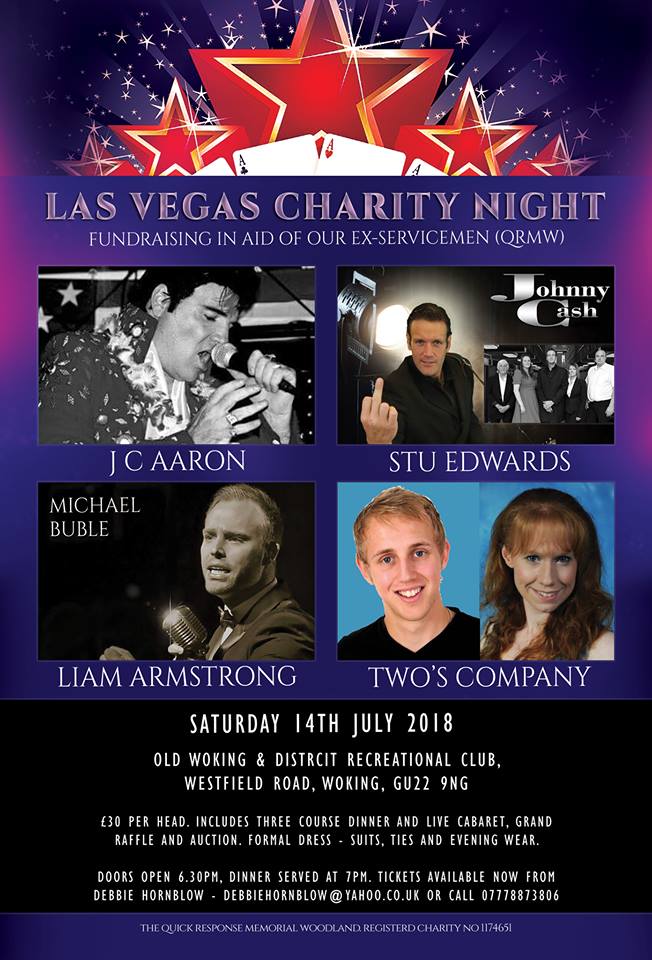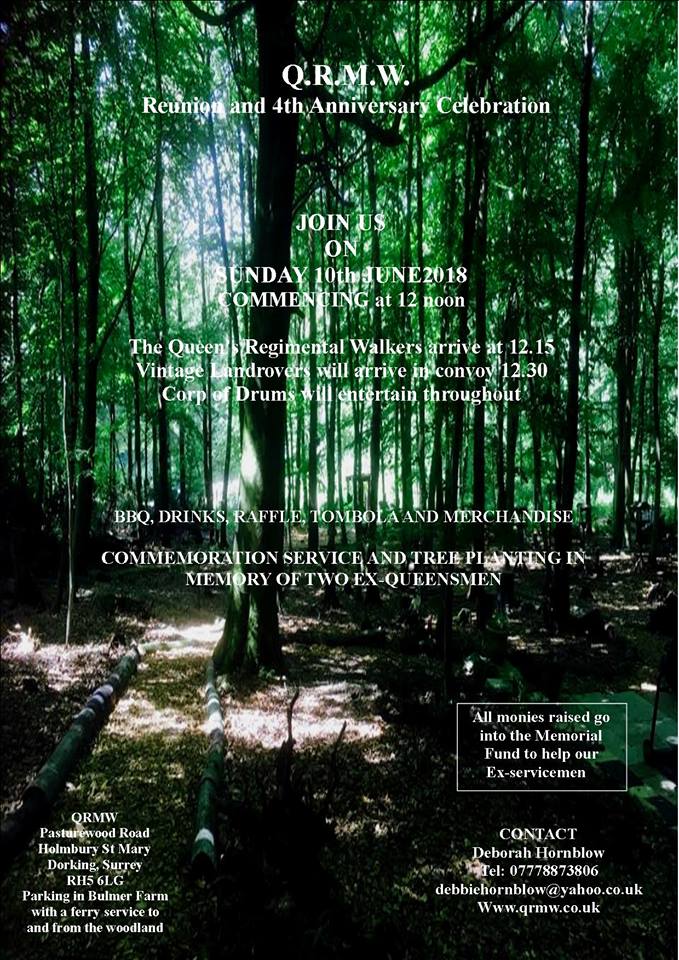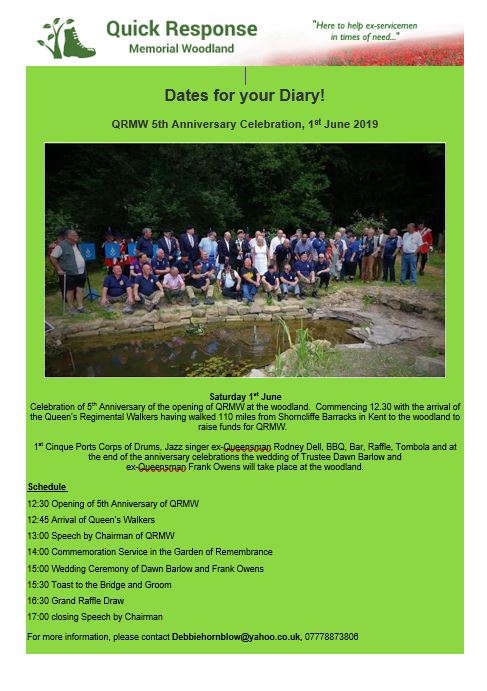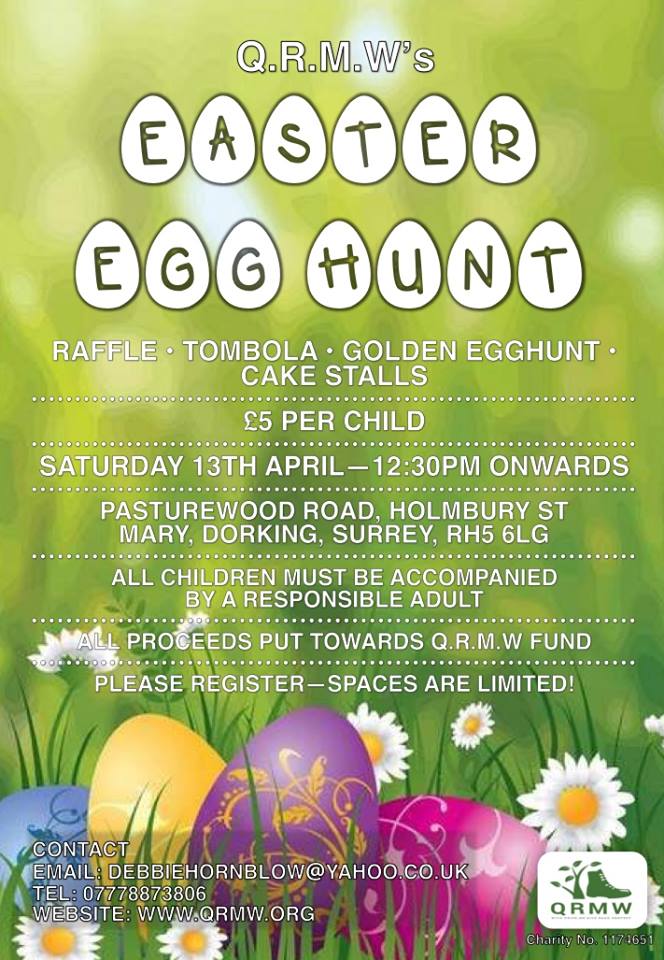 Got some spare time and want to help?
We are always looking for volunteers to help us. Whether that is helping to organise, transport goods or manning our stand, all help is appreciated.
ARE YOU A VETERAN AND NEED HELP? CONTACT US NOW ON 0744 409 4700